*We are only able to process and ship free sample requests from the 48 contiguous United States.
Why Choose HDIS?
Free Shipping - Enjoy free same-day shipping on every order in the continental U.S.

Discreet Delivery - Your order is shipped in a plain unmarked brown box, for your comfort and privacy.

Widest Selection in the USA - Select from the widest assortment of brands, styles and sizes available; and unlike stores, we are always in stock at HDIS.

Caring Counselors - HDIS Incontinence Counselors are fully trained to understand bladder control needs and to assist you in finding the products that are right for you.

Satisfaction Guaranteed - If you are not completely satisfied with your purchase for any reason, HDIS will gladly refund the purchase price of your products upon return of the unused, unopened products.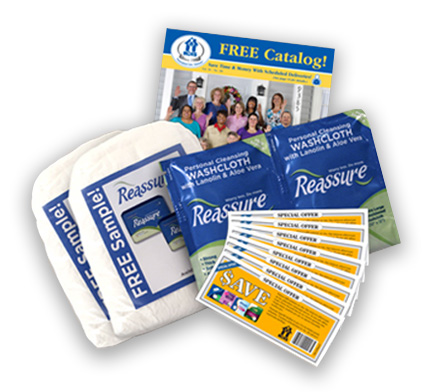 HDIS is not Taking Web Sample Requests at This Time
Due to unusually high volume, we are unable to fulfill online samples at this time. To receive a free sample pack, please call 1-800-207-4781 and one of our Friendly, Knowledgeable Incontinence Counselors will be more than happy to assist you.
We thank you for your understanding. HDIS continues to be committed to providing the best quality service we can to our customers. Be safe and be well. Again, please call 1-800-207-4781 to recieve a free sample pack.
Worry Less, and Do More - with Reassure®
Reassure® is a leading brand of bladder control products, available exclusively from HDIS.
Since 1993, Reassure® has been listening to customers about their needs for managing the loss of bladder control. We know that you want more protection, greater comfort and better fit - so we have strived to create products that surpass those expectations. Thanks to customers like you, Reassure® has been able to fulfill the goal of providing the perfect products for managing incontinence.
Just listen to what people are saying about Reassure®:
"Better than anything I've tried before ... and I've tried everything"
"Made me feel secure enough to attend my niece's wedding. I can't thank you enough."
"These pads are great. I'd buy them even if I had to pay more, but they actually cost less than the big-name brands."
With Reassure®, you'll find the most complete line of adult bladder control products, so you can find the right products that answer your needs. Even better - Reassure® products are backed by a 100% no-questions-asked guarantee - if you are not satisfied for any reason, simply contact us for a refund. We're certain that once you try Reassure®, you will be able to "Worry Less and Do More!"
*Free Samples are limited to one request per household. This offer is only valid in the 48 continental United States. Any duplicate or fraudulent requests will be cancelled and discarded without notice. Policies are subject to change. Have a question or special needs? Please give us a call at 1-800-269-4663 and we'll be glad to help you.