Enjoy the convenience of scheduled deliveries with our Personalized Delivery Plan™(PDP) and save $8 on your first order plus 5% on every order!
If you need HDIS products on an ongoing basis, our Personalized Delivery Plan™ (PDP) is for you! You can set up a delivery schedule according to your needs. For example, you might choose to receive a delivery every 2 weeks, every 45 days, or every 2 months. Your delivery schedule is whatever works for you. Once you sign up, we'll automatically ship your products to you at the appropriate time. If you create a web account, you will be able to modify your PDP order online and you will be able to check your next scheduled delivery date.
With our Personalized Delivery Plan, you won't have to remember to reorder. Plus, you'll also get a special 5% off our regular, low, "buy-by-the-case" prices. You can change your schedule, cancel a delivery, or add or delete items from your order at any time to suit your needs. You may also cancel your plan at any time without penalty.
Note: the 5% discount is not available on all products, or on all package sizes.
Set up your Personalized Delivery schedule today!
Getting started is fast and easy! You can set up a delivery schedule when you add any eligible product to your shopping cart. Simply check the box next to "Schedule & Save" and choose your delivery schedule. You can modify your schedule at any time by signing in to your website account or by calling one of our Customer Care Representatives at 1-800-269-4663. There is no obligation and you can cancel anytime.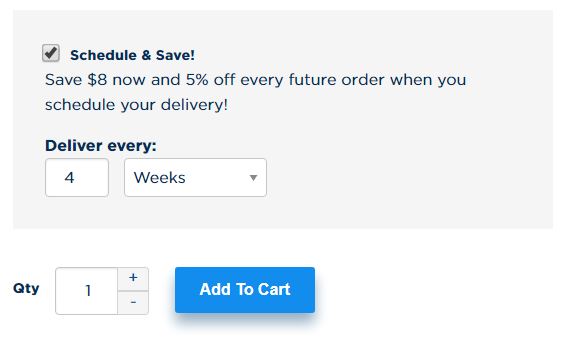 No Coupons Needed!
When you select a PDP delivery schedule for any eligible product, the pricing is automatically updated to include the 5% discount. Please note: while most products are eligible for PDP, there are some products that are not eligible for a discount (such as special offers), and some products may only be eligible for a discount on larger package sizes.

Meet Susan and Learn More About HDIS